Personalised name calendars
Calendars – everybody has them, everybody needs them, everybody uses them. Calendars are a constant companion in our daily lives, providing us with essential information, orientation and inspiration. Most of us check our calendars multiple times a day. So why not give calendars an individual dimension and transform them into something totally unique? Calendars personalised with names are the ultimate gift, touching people on a personal and emotional level. Simply give us a table of names, choose a sequence of pictures from over 500 images and we'll print an individual and personalised calendar for each name! You'll find a graduated price list for our personalised name calendars, Christmas cards and other promotional materials in our download section.
Wie kann ein Firmenlogo in die Kalender integriert werden?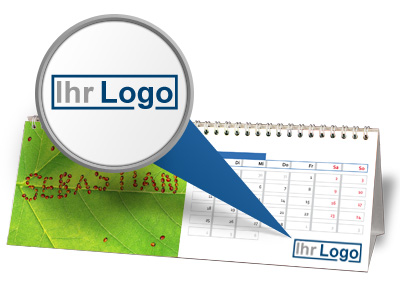 Bei allen unseren Kalendermodellen, ist es möglich ein Firmenlogo einzufügen und das Kalendarium an die CI-Farben anzupassen. Damit Ihre personalisierten Kalender zu Ihrer Marke passen, integriert unsere Grafikabteilung Ihr Logo in den Kalendarienteil. Damit steht Ihr Logo auf jedem Kalenderblatt.
Vor der Produktion Ihrer personalisierten Kalender erhalten Sie ein Freigabe-PDF, anhand dessen Sie prüfen können, ob der Kalender Ihren Vorstellungen entspricht. Auf Wunsch ist es auch möglich ein Fertigungsmuster zu erhalten. Erst nach Ihrer Freigabe beginnen wir mit der Herstellung Ihrer personalisierten Kalender.