Comparative Study by the Siegfried Vögele Institute and Edeka Südwest
Comparative Study by the Siegfried Vögele Institute and Edeka Südwest

67% coupon redemption rate, doubling of the average customer revenue

Image personalisation has been proven to increase response rates in dialogue marketing. But do expensive text and image-personalised mailings generate an efficient return on investment? The Siegfried Vögele Institute wanted to find out. For the first ever time, a study looked at the success of conventionally addressed mailings compared with image-personalised mailings produced via digital printing. The Edeka Südwest supermarket chain sent out birthday cards with image-personalised designs and store vouchers to a portion of its loyalty card holders. The rest were sent birthday cards addressed in simple form. The advertising impact was then evaluated with the help of telephone interviews. Advertising recall in particular was significantly higher with the image-personalised digitally-printed mailing. This was most pronounced with "unaided recall".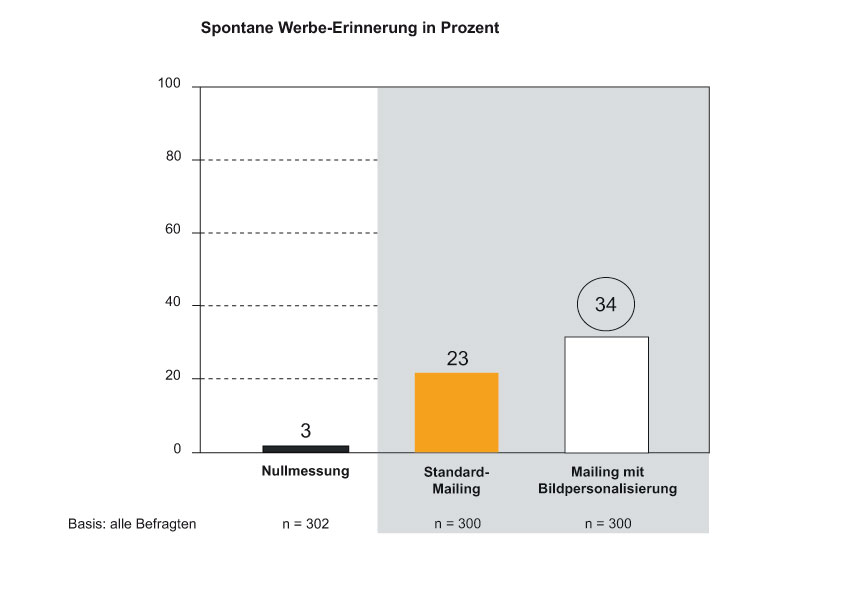 In terms of "soft factors", Edeka Südwest markedly improved its image ratings in the areas of staff competence, quality and freshness. Subjective evaluation of these factors was considerably higher after the image-personalised campaign than before. Personal forms of address in mailings clearly have a positive effect on the perception of service quality. This confirms that in terms of "soft factors" such as recall, stopping power and involvement, image personalisation lends a positive brand effect to dialogue advertising.

The birthday mailing was also a success in terms of "hard factors" such as turnover growth. 67 percent of the recipients redeemed their coupons. Furthermore the customer spend on the associated shopping transaction was double the average figure.