Personalised Easter cards
Sending Easter cards on the occasion of the most important of Christian festivals has long been less important to companies (in particular in the B2B area) then the sending of Christmas cards. As such, Easter greetings generate a considerably greater promotional and memory effect. Ultimately, one is essentially submerged in a flood of Christmas cards at the end of the year, whilst Easter cards are infrequently received. Anyone who utilises this to their advantage and stands out from the masses with personalised Easter cards will remain in the memories of the recipients for longer - customer loyalty par excellence!
We offer many different formats of personalised Easter cards with a wide range of images. You choose the ideal variant and the appropriate image for the respective customer or commercial partner - we take care of the printing and dispatch for you!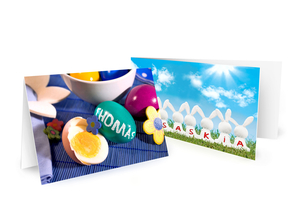 Die Osterkarten als Klappkarte sind perfekt, um innen noch einige persönliche Worte zu schreiben.
Personalised Easter cards are always truly individual pieces. Because the individual image, into which one's own name is photorealistically integrated, draws the attention of each recipient. We print a personalised Easter card for each of your recipients - for example, one hundred different cards for one hundred different recipients, with different Easter images. We can naturally also print the cards with your logo and the desired greeting text. Using modern workflows and mass customization we are able to offer you attractive prices together with greater individuality.
You wish to surprise you friends or commercial partners with a nice Easter greeting? Then personalised Easter cards are the perfect choice! Even with very little time, our competent team will realise your requirements rapidly. We have a wide range of complete layouts available for you to choose from. We print and deliver your Easter cards to you as a complete package ex words, or post the cards directly to your customers on request.
When placing your order please provide us with an individual greeting text, if required your company logo and an Excel file containing the names and addresses of your customers or commercial partners. Our graphics department will also be happy to cater for your special wishes and adapt the personalised Easter cards to your Corporate Design. We shall be happy to furnish you with a firm quotation - please give us a call!